About Us
The consulting firm with a local touch.
Our vision
With over 30 years' experience and offices in Stavanger, Norway's energy capital, we work with large and small companies across many industries and areas of expertise. We're your partner when it comes to recruitment, temporary staffing and consultancy services – whether you are a jobseeker or an employer. We are passionate about finding the right candidate for the right job, and we hire and recruit consultants across a multitude of disciplines, including administration, IT, finance and accountancy, engineering, HSEQ, document control and HR.
Our personal touch and excellent follow-up is how we stand out from the crowd, and we always strive to deliver high-quality service to our customers and consultants.
Because we always believe we can do better!
Our values
Honesty
Honesty is the cornerstone of our business. We provide our customers and consultants with honest and constructive feedback in order to help both parties as best we can.
Quality
We are committed to presenting candidates of the highest quality. All our candidates are interviewed and reference checked in advance, and we also carry out background checks on our customers. We invest in the relationships we have with our customers and consultants, and our focus on quality underpins this.
Availability
We are there for our consultants and customers so they always feel that we have their backs. We respond to enquiries quickly and are flexible in accommodating all parties to facilitate a smooth cooperation.
Joy
We believe that joyful working makes a difference. Our consultants are full of good humor and are enthusiastic about their profession and the people they work with.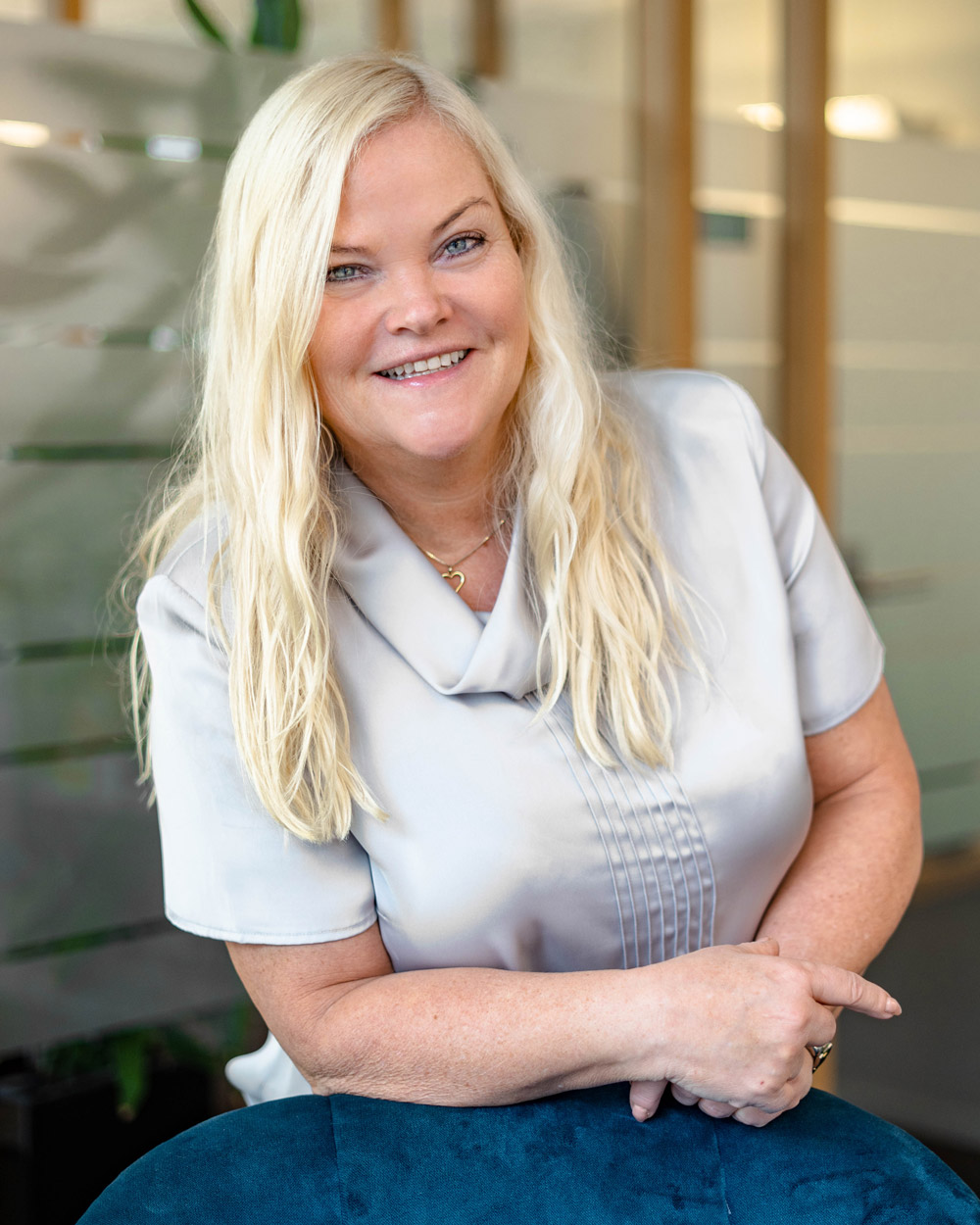 "The right person for the right job"
Grethe Borg
General Manager/Partner
Grethe began her career in recruitment in 1987. She has worked in recruitment and staffing of temporary and permanent positions in the following areas: IT, accounting, finance, economics, engineering, HR, administration, purchasing, logistics, sales and KAM positions.
She has also worked in a rig company, manning rigs both in Norway and internationally.
Grethe has extensive experience in operations, both from running her own companies and as a general manager. She has worked as a property manager and technical supplier for new builds and conversions/renovations.
Her educational background is in personnel and organisation, and she has held several positions as HR Advisor and KAM for large international companies.
Grethe uses her network to search for the best candidates. She offers creative solutions, which our customers greatly appreciate. She is both a discussion partner and a supplier – a win-win for both parties.
"Trust is built on quality"
Kjersti Jonker
Senior Adviser
Kjersti has four years' experience as a recruitment consultant for large clients in the oil and energy sector. She has a bachelor's degree in Petroleum Geology from the University of Stavanger, which has provided a good basis for her work in technical recruitment. A focus on competencies and a keen interest in people is the basis of her work.
"Discipline creates freedom – the freedom to be creative, solve new challenges, and develop yourself."
Krister K. Dahlberg
Adviser
Krister has a master's degree in psychology, as well as a background as an electrician with additional training as a renewable energy engineer. He has scientific experience in areas such as cognitive neuroscience, and has held teaching positions in psychology and electric energy. His background provides a good basis for understanding both the customer's wishes and the employee's needs. Krister believes that a healthy workplace that looks after employees increases the desire to work, motivates employees, and drives the team towards achieving the organisation's goals together.
"Thoughtful and personal support is what makes a difference."
Leah Jespersen
Adviser
Leah holds a MSc in Human Resource Management from The Open University, and has previously worked in London's publishing industry. Her international background has given her the opportunity to work with a variety of people, as well as the ability to better understand the wishes and needs of others. Leah values collaboration, empathy and helpfulness, and she is at her happiest when working with people and helping them in their working life.
"Good people who are engaged, courageous and conscientious of one another, create the best results."
Erik Hammer
CEO/Chairman
Erik is CEO of Sirius Group AS, Vega Consultants' parent company, and has a degree in civil economics (Cand. Merc.). He has a managerial background in consulting and engineering companies, and has extensive experience from several industries related to oil service, shipping and industrial companies, both locally and internationally. Erik is actively involved in the day-to-day operations of several companies, and is also a founder in his own right. Erik also serves as a board member in several organisations.
"Vega Consultants is, without a doubt, the consulting company that does the UTMOST for its employees. I have worked with many companies, but none of them make as great an effort for their consultants as Vega does."
Roy Marthinsen, Consultant, Bouvet Rogaland